Torn ACL Animation
Omaha Torn ACL Animation by Dr. Darren R Keiser MD
Omaha Torn ACL – Anterior Cruciate Ligament
Omaha Torn ACL Information by Dr. Darren R. Keiser MD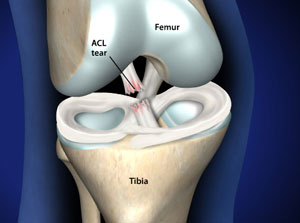 One of the most common knee injuries is an anterior cruciate ligament sprain or tear.
Athletes who participate in high demand sports like soccer, football, and basketball are more likely to injure their anterior cruciate ligaments.
If you have injured your anterior cruciate ligament, you may require surgery to regain full function of your knee. This will depend on several factors, such as the severity of your injury and your activity level.
This condition occurs when the anterior cruciate ligament (ACL), the band of tissue that connects the femur to the tibia inside the knee joint, becomes torn or worn away, causing pain and instability of the knee.
Causes of ACL Tear
The anterior cruciate ligament can be injured in several ways:
> Changing direction rapidly
> Stopping suddenly
> Slowing down while running
> Landing from a jump incorrectly
> Direct contact or collision, such as a football tackle
Several studies have shown that female athletes have a higher incidence of ACL injury than male athletes in certain sports. It has been proposed that this is due to differences in physical conditioning, muscular strength, and neuromuscular control. Other suggested causes include differences in pelvis and lower extremity (leg) alignment, increased looseness in ligaments, and the effects of estrogen on ligament properties.
Symptoms of ACL Knee Injury
When you injure your anterior cruciate ligament, you might hear a "popping" noise and you may feel your knee give out from under you. Other typical symptoms include:
> Loss of full range of motion
> Tenderness along the joint line
> Discomfort while walking
> Pain with swelling
Within 24 hours, your knee will swell. If ignored, the swelling and pain may resolve on its own. However, if you attempt to return to sports, your knee will probably be unstable and you risk causing further damage to the cushioning cartilage (meniscus) of your knee.
Omaha ACL Tear Specialist
Set up an Appointment with Dr. Darren R Keiser MD
Dr. Darren R. Keiser MD
222 N 192nd St.
Elkhorn, NE 68022
(402) 390-4111
Areas for ACL Tear:
Dr. Keiser has patients from many different areas in and around Nebraska.
Omaha, Beatrice, Bellevue, Columbus, Fremont, Grand Island, Hastings, Kearney, La Vista, Lexington, Lincoln, Norfolk, North Platte, Papillion, Scottsbluff, South Sioux City.
Click Here to View Other Knee Procedures